May 13, 2013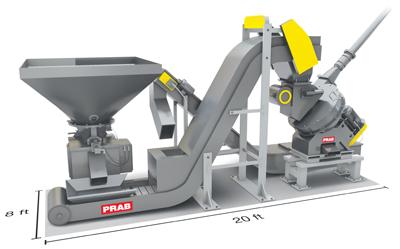 PRAB Inc. has engineered and manufactured chip and fluid filtration systems for over 60 years. Throughout the last decade, as more metal working companies recognize the cost savings and operational advantages in optimizing their scrap metal processing, PRAB has expanded its chip and fluid systems offering to include more modular equipment layout. These chip processing systems encompass all of the equipment needed to effectively process scrap, while requiring minimal floor space.
Tim Hanna, PRAB Managing Director stated, "The modular concept started with our large automotive customers who moved away from central chip and fluid processing systems in favor of smaller, regional collection and processing points. PRAB also works with other industry OEMs to offer a modular system as a means of eliminating labor intensive and potentially hazardous processes while capitalizing on real cost benefits."
PRAB modular systems also offer maneuverability and easy installation and connection with the ability to add other modules to expand chip handling capacity. PRAB Modular Chip Processing Systems typically include: material handling conveyors, pre-processing crusher and/or shredder as needed, and a wringer/centrifuge. Other options include briquetting, and fluid recycling and filtration for reuse.