July 01,2011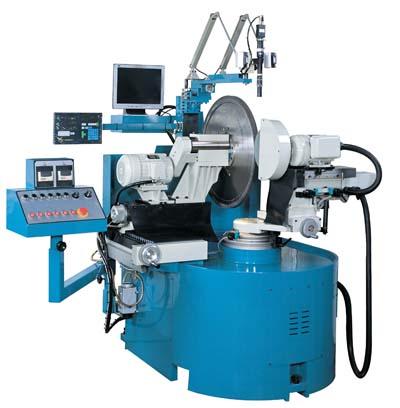 Rush Machinery offers the large capacity Model FC-700 Series Diamond and CBN Wheel Truing and Dressing Machine. The Model FC-700 series is designed for truing and dressing of flats, angles, and radii on diamond and CBN single wheels and multiple wheel packs for wheels up to 28" (700mm) standard, with an option to 42" (1070mm) in diameter. Use of the Model FC-700 series allows for increased efficiency and accuracy by dressing wheels properly, offline of the production grinding machinery. The machine is simple to operate, quick, accurate and cost-effective.
The heavy-duty one-piece cast iron base provides extra rigidity and minimizes vibration. Standard features include a computer-driven vision system with a software program specifically designed for the FC-700 series truers and their various applications; an automatic power zoom; and, a 2-axis DRO for measurement.
The Model FC-700 series is available as a manual machine (FC-700W) or a semi-automatic version (FC-700EX). The FC-700EX utilizes an advanced PLC control for semi-automatic wheel dressing cycles, thereby freeing up the operator for other nearby tasks.
The customized video software platform makes high-tolerance truing and dressing easier than ever before. In addition to the auto-zoom capabilities, this system allows magnification levels from 15x to 60x as standard; and, an optional high magnification system that allows from 30x to 120x, giving the benefit of true continuous in-process optical inspection while you work.