September 01, 2011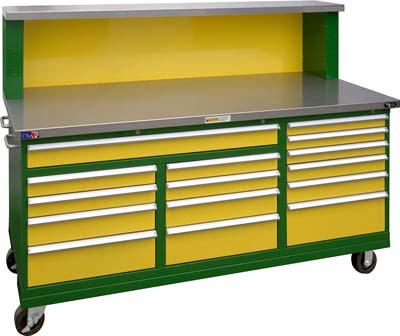 Stor-Loc introduces its NEWmm10 Combination Cabinet. Themm10 combines multiwidth and multi-height drawers into one Single Cabinet Housing. The Triple Section Design allows users to combine various height drawers in the left side, middle and right side of the the unit, providing unlimited versatility.
9500 Square Inches of Drawer Space are combined into a Mobile Workstation to store tools, parts or other components affording high density storage in a single, functional work area. Included are one Double Wide Drawer with 4" of usable height plus Thirteen Standard Wide Drawers in various heights of your choice. Each Drawer delivers a 400 lb. Capacity and can be subdivided into storage compartments of any size.
Use for storage of Tools and Instruments, Inspection and Assembly, or for Spare Part Storage. Heavy Duty Casters are included with Pull Handles for mobility. Choose from a Maple Top or a Stainless Steel Cap over Maple.