May 26, 2023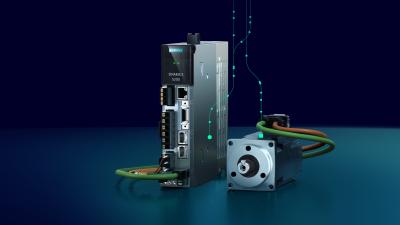 At AUTOMATE 2023, Siemens introduced its newest servo offering to the North American manufacturing industry. With the new SINAMICS S200 servo, comprising a SINAMICS S200 drive and SIMOTICS S-1FL2 motor with standard or flexible cable options, Siemens brings a new level of motion control to the stand-alone and networked machine market.
This new servo package expands the SINAMICS drive offering a variety of application possibilities to the standard servo market. The pulse train version allows a wide range of installed machines to easily integrate additional positioning axis using the onboard positioner. Meanwhile, a dynamic networking capability to motion control i.e., SIMATIC PLC expands its system capabilities in the PROFINET version. With a power range up to 7kW including low-, medium- and high-inertia offerings the 1FL2 permanent magnet motors with 17- or 21-bit encoders expand the performance, as well as scale to the widest range of standard servo requirements.
Easy setup is assured with the electronic type plate on the 1FL2 motor and one-button tunning in the S200 drive. The integrated brake resistor and integrated holding brake control add to the functions in the S200 servo-drive. High durability is designed in with the coated circuit boards (3C2) in the S200 and IP65 motors with metal connection solution. Built-in under-voltage protection is further provided.
For the engineering into a machine builder or machine user's system, the embedded web-server or Startdrive software integrated into the Siemens TIA Portal is offered to fit user demand. Easy implementation of the SINAMICS S200 drive system on machines intended for global use is provided by universal standards and certification compliance.
SINAMICS S200 is included in the SINAMICS DriveSim Basic model and enables users to create a digital twin of the drive and PLC communication in the planning phase on a project to ensure proper sizing and operation of the equipment in use.
In the area of cybersecurity, the SINAMICS S200 for networked connection comes standard with integrated security, providing enhanced communication, integrity and authenticity checks to protect against tampered parameters, plus the drives offer User Management and Access Control (UMAC) within the TIA Portal.
Applications for the new SINAMICS S200 drive system range from the emerging battery market and other E-OEM segments to packaging, woodworking machinery, solar wafer production and many more.