November 19, 2021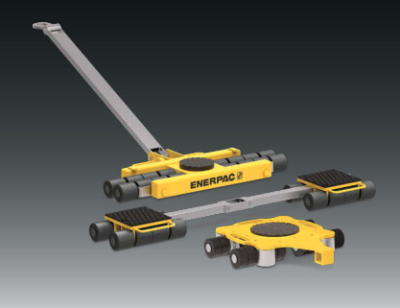 Industrial movers have a new option for moving machines and equipment. The Enerpac MLS-Series wheeled load skates are a safe and stable option for machinery relocation and installation. When it comes to safety, the MLS-Series features a stable, wide footprint with padded tops for a non-slip surface.
Limited space and minimal headroom are typical challenges when moving equipment. The MLS-Series is compact. It's low-height design is ideal for minimal lift heights and to accommodate limited clearance above loads. It's also versatile. The MLSS models provides good directional movement. Meanwhile the MLSR models feature 360-degree movement ideal for tight spaces.
The MLS-Series is also easy to use. It features low rolling and rotational resistance. Additionally, its simple set up means even relatively new rigging operators can operate the equipment.
Enerpac MLS-Series Load Skates Features:
Low profile for minimized installation height
Rugged and reliable bearings for low rolling resistance and durability
High-quality wheels (nylon MLSR, polyurethane/optional nylon MLSF/MLSD) for stability and damage prevention to finished floors
Available in a wide range of load capacities from 3 to 35 tons
Set load capacities available from 6 to 70 tons
Easy-to-rotate turntable on MLSF models for enhanced maneuverability
MLSR models include 360-degree directional movement for load positioning flexibility in confined spaces
Configurable with towable or manual connecting bars and handles, depending upon model
Optional nylon wheel kit for better wear resistance and increased load capacity
Related Glossary Terms
clearance


clearance

Space provided behind a tool's land or relief to prevent rubbing and subsequent premature deterioration of the tool. See land; relief.

wear resistance


wear resistance

Ability of the tool to withstand stresses that cause it to wear during cutting; an attribute linked to alloy composition, base material, thermal conditions, type of tooling and operation and other variables.