November 01, 2014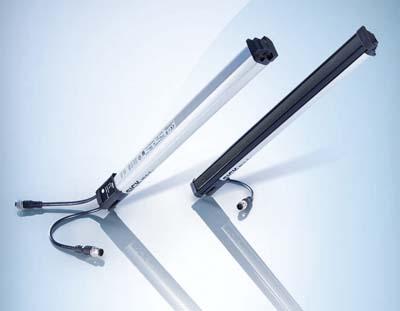 SICK announced the launch of the MLG-2 automation light grids. The speed, resolution and optical features of the MLG-2 enable it to detect and measure transparent, small and fast-moving objects even under harsh conditions.
A small beam spacing of just 5mm ensures the thinnest objects are detected while a new "Transparent Mode" function provides measurement, location tracking and hole tracking on transparent materials. A durable aluminum housing with an enclosure rating up to IP 67 makes the MLG-2 resistant to glare and ambient light. In addition, commissioning can be easily completed using the intuitive display or SICK's SOPAS software tool.
Available in two variants, Prime and Pro, the MLG-2 provides a durable, functional and high-quality solution for the most demanding detection tasks. The MLG-2 Prime features two analog outputs, up to three switching outputs and optical synchronization. The MLG-2 Pro, a more advanced variant, includes transparent, high-speed and high-resolution modes, wired synchronization, IO-Link 1.1, and troubleshooting via SOPAS software.
The MLG-2, which includes the IO-Link interface, is designed for high-resolution and high-speed measurement applications in the logistics, traffic, robotics, machine building, and food and beverage industries. Its advanced application capabilities also make it ideal for dusty, dirty or outdoor environments.
Related Glossary Terms
robotics


robotics

Discipline involving self-actuating and self-operating devices. Robots frequently imitate human capabilities, including the ability to manipulate physical objects while evaluating and reacting appropriately to various stimuli. See industrial robot; robot.