December 01, 2020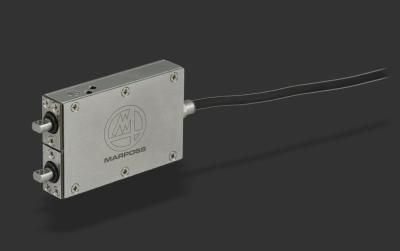 Marposs, a world leader in measurement, inspection and test technologies, has announced Minimicromar3, an in- and post-process grinding gauge designed for small diameter measurement. This ultra-compact gauge is well-suited for the manufacturing of very small ground components such as fuel injectors, electronics and other parts.

The Minimicromar3 is designed for measuring external diameters, positioning and length for both smooth and interrupted surfaces. It can measure workpieces from 25mm to 42.5mm with a measuring range of ±100 µm and a repeatability of ≤0.1 µm. It is designed with a high degree of protection against coolant and abrasive substances. Its low thermal drift value (<0.1 µm/°C) helps maintain high measurement precision.
The Minimicromar3 can be used with a range of Marposs electronic units including the P7ME, P7UP, P7SYS, Blù and Blù LT for higher end applications and the P1dME and P3dME for entry to mid-level applications. The gauge, together with the associated electronic control unit, exchanges information and signals with the machine in order maximize performance and achieve the desired results. It is designed for quick and easy installation and operation.
Related Glossary Terms
abrasive


abrasive

Substance used for grinding, honing, lapping, superfinishing and polishing. Examples include garnet, emery, corundum, silicon carbide, cubic boron nitride and diamond in various grit sizes.

coolant


coolant

Fluid that reduces temperature buildup at the tool/workpiece interface during machining. Normally takes the form of a liquid such as soluble or chemical mixtures (semisynthetic, synthetic) but can be pressurized air or other gas. Because of water's ability to absorb great quantities of heat, it is widely used as a coolant and vehicle for various cutting compounds, with the water-to-compound ratio varying with the machining task. See cutting fluid; semisynthetic cutting fluid; soluble-oil cutting fluid; synthetic cutting fluid.

grinding


grinding

Machining operation in which material is removed from the workpiece by a powered abrasive wheel, stone, belt, paste, sheet, compound, slurry, etc. Takes various forms: surface grinding (creates flat and/or squared surfaces); cylindrical grinding (for external cylindrical and tapered shapes, fillets, undercuts, etc.); centerless grinding; chamfering; thread and form grinding; tool and cutter grinding; offhand grinding; lapping and polishing (grinding with extremely fine grits to create ultrasmooth surfaces); honing; and disc grinding.