October 13, 2016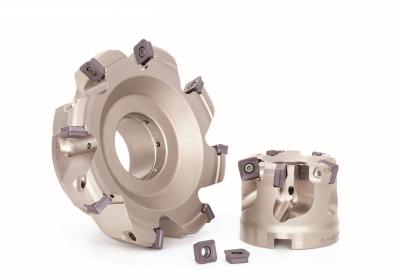 Tungaloy Corp. offers MillQuadFeed, a new high-feed milling cutter. With a depth of cut up to 0.098" (2.5mm) and a feed rate up to 0.078" (2.0mm) per tooth, MillQuadFeed accomplishes astounding metal-removal rates in rough milling operation, according to the company.
During heavy rough milling, insert lift up and cutting edge fracture are common causes for premature tool failures. However, due to the MillQuadFeed's design, such as rigid insert clamping system, the unique wavy cutting edge design, and the large T-land on the cutting edge, superior machining stability and fracture resistance are achieved. The multiangle flank side of the insert will reduce chatter and provide superior ramping capability, making this cutter an excellent milling tool for various roughing applications.
Cutter diameters are available from 2.50" to 6.00" (and in metric sizes from 50mm to 160mm) in bore type; and inserts in SWMT1506–MJ. Two grades are available: fracture resistant AH3135 for steel and stainless steel; and wear resistant AH120 for cast iron and hardened steel.
Additional Products from Tungaloy America Inc.