September 13,2013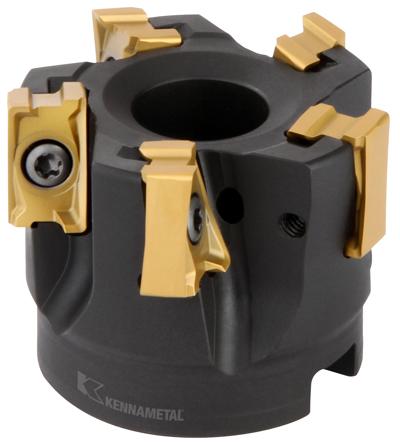 Experienced manufacturers know that when milling, three main considerations predominate: metal removal rate, tool life, and surface finish. All three are critical to successful metalworking, but often one will predominate. Manufacturers facing parts requiring 90-degree shoulders also know that achieving true 90-degree shoulders and minimizing the scallop or step marks between passes absolutely requires a high-performance cutter.
The new Mill 4-15 platform from Kennametal is that best-in-class system, according to the company. Mill 4-15 features a double-sided insert with four cutting edges for effective cost per edge and able to take up to 15mm [.590"] depth of cut, while a unique cutting edge design assures positive contact through 90-degree milling and virtually "stepless" solution for stepping-down applications. In addition, an integrated wiper facet achieves best-in-class surface finishes.
"After its development, it's safe to say Mill 4-15 is a definite game-changer," says Juan Seculi, Kennametal indexable milling product manager. "Between the cutter body and insert features available, customers can be assured of high value from the best product available"
Mill 4-15 inserts will be available precision ground or molded inserts with corner nose radii from 0.4mm to 2.4mm. Topographies include GE with a high positive rake, effectively lowering cutting forces while reinforced cutting edge emphasizes cutting-edge strength for medium to heavy applications. Mill 4-15 cutter bodies are manufactured to very tight tolerances. Multiple cutter body options, including screw-on, cylindrical shank end mills, Weldon shank end mills, and shell mill cutters with effective internal coolant feature are available.
"Companies are often forced to trade off work efficiency, surface quality, or overall cost in shoulder milling," Seculi says. "Mill 4-15 offers a universal solution for a majority of workpiece materials in a cost-effective, multiedge design. Now there are no compromises."