October 13,2012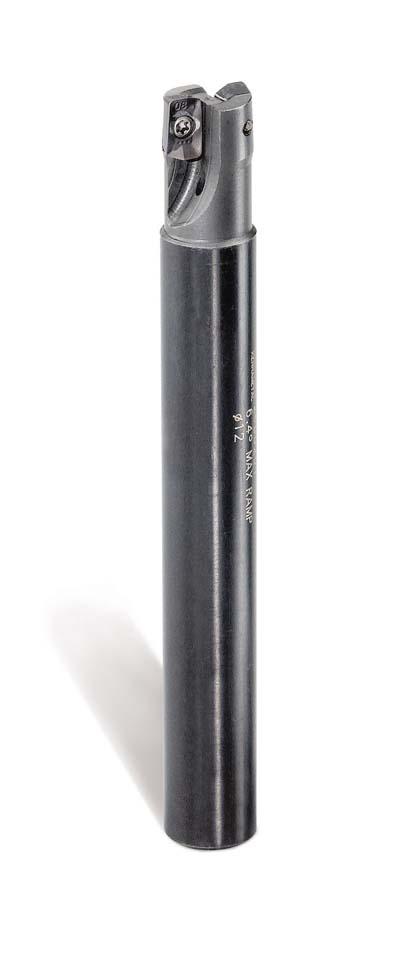 As the latest complement to the Mill 1 platform for finishing operations, Mill 1-7 is Kennametal's solution for finishing in small diameter milling. This new line is specifically engineered to cover ramping, slotting, and plunging for aerospace, energy, and general engineering applications. Mill 1-7 is a diverse tool for roughing and finishing operations, where small diameter end mills are required.
Multifunctional Mill 1-7 cutters can be used for shoulder-, ramp-, slot-, plunge-, and helical milling all while using a single insert to improve productivity, reduce inventory, and decrease machining costs. The small Mill 1-7 inserts enable the use of higher density cutters rather than larger inserts, providing greater feed and higher metal removal rates. The super positive rake of these inserts provides soft action and low cutting forces for smooth entry and exit from the component. This feature also enables the cutters to run at higher feed rates while using less power.
Mill 1-7 inserts are designed with elliptical cutting edges that are optimized with a straight 90° wall and true 0° lead, making them capable of replacing SCEM finish machining in certain applications.
Mill 1-7 inserts come in three grades to cover various applications and conditions:
The KC725M grade for general and heavy steel, stainless steel, and ductile cast iron milling applications is engineered for both wet and dry machining.
The multilayered TiN-TiCN-Al2O3-CVD-coated KCPK30 grade has advanced Beyond post-coat treatment for a wide application area in general and rough milling of steels and cast irons. This grade works best dry but functions under wet conditions.
The KC522M grade is engineered to provide better performance in general machining of high-temperature alloys and stainless steel. KC522M resists breakage and offers improved wear resistance and increased strength.