June 25, 2018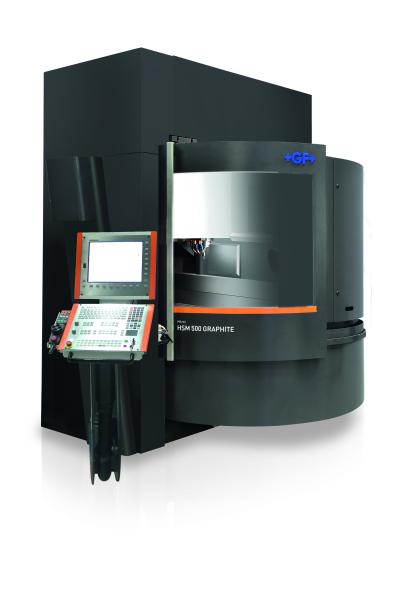 The information and communications technology (ICT) and automotive sectors requiring graphite molds for glass end products and graphite electrodes present distinct challenges in terms of surface finish, precision, process reliability and productivity. GF Machining Solutions' high-speed Mikron MILL S 400/500 GRAPHITE and Mikron HSM 500 GRAPHITE are dedicated specifically to graphite machining, helping users master precision over time and meet their customers' expectations for flawless surface quality.

Graphite glass molds for glass end products are especially common in markets such as ICT while graphite electrodes are typically demanded by the automotive, electronic components, aerospace and packaging sectors. The Mikron MILL S 400/500 GRAPHITE and HSM 500 GRAPHITE build on GF Machining Solutions' high-speed Milling (HSM) legacy by addressing the very challenges manufacturers grapple with daily. By answering users' needs for greater surface quality and precision, they reduce costs, extend flexibility and unleash cost effectiveness. And, thanks to GF Machining Solutions' genuine HSM technology and high-quality key components, these dedicated solutions deliver unparalleled process dynamics: 100 percent of the resulting machine performance is transferred to the machined graphite mold or electrode.
Process stability, parts quality and shop floor productivity are must-haves for customers' production of the graphite molds that are shaping the glass for today's fast-moving information and communications technology (ICT) and automotive markets. New products—like high-end curved touch screens—require molded glass and drive the increasing need for machined graphite molds. The MILL S 400/500 GRAPHITE makes those impeccable 3D glass products—and more—possible. Graphite mold manufacturing for glass end products presents specific manufacturing challenges. They require ±5 µm precision, Ra 0.4 µm surface finish and, depending on the application, as many as 90 minutes of dry or wet machining—and they must be absolutely free from milling marks.
The MILL S 400/500 GRAPHITE resolves these challenges. As ambient workshop temperatures fluctuate and machining speed changes, process stability is maintained, thanks to these solutions' intelligent thermal management system and thermostabilized machine body. Precision and stability at the tool tip are ensured by the Step-Tec HVC140 Spindle, specially developed for best accuracy and fluid tightness. Its 42,000 rpm and 13.5 kW of power ensure the precision manufacturers need to tackle graphite molds, and it has thermal stability of less than 1.7 Kelvin around the machine support's contacting surface. For mold makers looking to enter the market for molds for glass end products, both productivity and speed are important factors that can make a difference.
Graphite machining has never been so attractive—and challenging. The Mikron HSM 500 GRAPHITE and MILL S 400/500 GRAPHITE yield the precise graphite electrodes that boost die-sinking EDM productivity and reduce costs.
As lead times become ever shorter, manufacturers require ever-greater speed in their manufacturing processes. Precision, flexibility, higher productivity and reduced cost per electrode are the direct advantages of the automated and reliable processes delivered by these two dedicated graphite machining solutions.
With their high-speed Spindle and unparalleled process dynamics, the Mikron HSM 500 GRAPHITE and MILL S 400/500 GRAPHITE are genuine high-speed Milling solutions. Enhancing their performance is GF Machining Solutions' integrated Automation, so manufacturers are positioned for above-average agility, productivity and return on investment.
Establishing a process, ensuring its stability, and sustaining productivity while reducing running costs are among the specific challenges that graphite machining shops face daily. Whether the customer's process requires dry or wet machining, GF Machining Solutions' Mikron Mill solutions ensure the clean working environment essential to both process quality and employees' health.
The Mikron MILL S 400/500, available with three axes, sets a benchmark for axis dynamics and Spindle speed and takes users beyond fast dry and wet graphite machining. The results: simple, perfect, precise graphite machining due to long-term precision and the ability to machine not only graphite but a wide range of materials in a clean environment. These mixed-use capabilities are enhanced by integrated Automation to drive users' agility, productivity and return on investment.
The Mikron HSM 500 GRAPHITE puts users at the forefront of dry machining with a well-established process, a simple and compact solution, and a workshop free of graphite slurry accumulation. The machine's Step-Tec HVC140 spindle, integrated dust extraction, and integrated System 3R WorkPartner (WPT1+) compact part changing robot come together as the ideal solution for machining small graphite electrodes.
Highest productivity and flexibility per square meter take graphite machining shops to a new level of success, thanks to GF Machining Solutions' process expertise. For example, a single Mikron HSM 500 GRAPHITE and a System 3R WPT1+ consume just 10.4 square meters of workshop space while ensuring 24/7 automated process reliability.
Manufacturers can double their production capacity by equipping two Mikron HSM 500 GRAPHITE machines with a WPT1+ with up to 70 pallets—in a footprint of only 18.5 square meters.
Hundred percent more flexibility is within easy reach by bringing three operations—graphite electrode machining, die-sinking EDM and Automation—together in a single 19.5-square-meter cell employing the Mikron HSM 500 GRAPHITE, the AgieCharmilles FORM P 350 and the System 3R WPT1+ with up to 70 pallets.
Manufacturers' flexibility can be further extended by System 3R's diverse clamping systems.
From small electrodes to large steel molds, various System 3R reference systems are available to drive graphite machining shops' flexibility.