September 14, 2021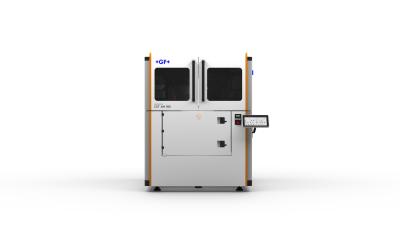 To provide medical manufacturers the key subtractive operations needed within additive manufacturing part production, GF Machining Solutions showcased its Mikron MILL E 500 U high-efficiency 5-axis milling machine and the CUT AM 500 horizontal wire EDM at the recently held MD&M West 2021 show in Anaheim, California. Both machines work seamlessly alongside GF Machining Solutions' additive manufacturing systems for complete medical part processing and optimized workflow.
To mill off build supports and perform secondary machining of additive produced parts themselves, the Mikron MILL E 500 U features a large swivel range from 65° to + 120° and the capacity for additive parts weighing up to 450 kg. With its tilting, swiveling table, the machine also allows users to process a wider range of parts.
The Mikron MILL E 500 U's powerful 20,000-rpm Step-Tec spindle tackles both rough milling and drilling operations and increases metal removal rates by 20 percent over previous models. Its rigid, stable C-frame cast iron construction reduces vibrations for increased precision and repeatability, while large guideways, a double side-supported rotary table and optimized chip evacuation enhance reliability and part quality.
Designed specifically for the additive manufacturing process, the CUT AM 500 horizontal wire EDM makes it easier than ever to quickly separate additively manufactured metal parts from build plates while maintaining geometrical accuracy and ensuring assembly readiness. The machine is a fast, precise, affordable and automation-ready alternative to the use of standard vertical EDM equipment or band saws to separate parts from build plates.
In addition to improving overall efficiency, the CUT AM 500 also resolves a number of quality barriers encountered by manufacturers created by the use of band saws, including but not limited to geometric inaccuracy, loss of workpiece material (kerf) and damage to the part. Ideal for risk-averse industries such as medical manufacturing, the CUT AM 500 maintains the integrity of the part by eliminating any contamination and/or damage.