January 13, 2013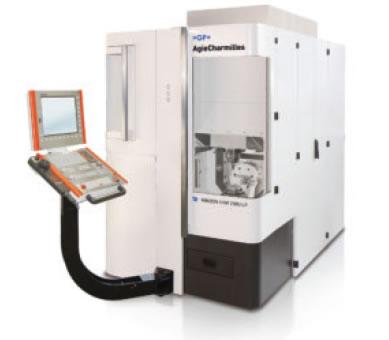 GF AgieCharmilles' Mikron HSM 20U LP (linear performance) milling machine is available in 3- and 5-axis versions and can produce parts via simultaneous 5-axis high-speed machining. The machine's 50,000-rpm, 11.4-hp Step-Tec spindle assists in imparting surface finishes as fine as 0.05µm Ra. The machine has linear motors for the main machine axes and direct-drive motors for the B and C axes.
According to the company, the machine easily fits into most facilities, which is critical for dental laboratories, watchmaker shops and other locations that produce small, complex components where floor space is often limited. Gisbert Ledvon, director of business development for North America, noted the milling machine accommodates the medical industry's increased need for lean manufacturing via small-footprint, high-speed machines.
To counteract the high levels of heat that can develop over prolonged periods of high feed rates, the machine employs a thermal management system. Each of the linear axes features a cooling unit to systematically draw the heat from the machine, creating geometric stability and high repeatability of movement guidance.
The machine has Intelligent Tool Measurement to avoid inconsistent loading of small tools and 3-D geometry errors because of inaccurate measurement of these tools. ITM records the complete tool tip up to a diameter of 0.47" on image sensors.