April 12, 2012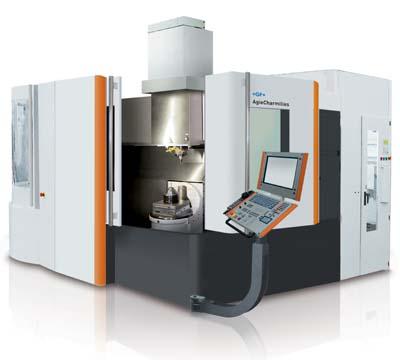 The latest high-performance MIKRON HPM 450U milling solution from GF AgieCharmilles boasts a new torque rotary/tilt table for unencumbered, interference-free five-axis machining and offers highly efficient spindle options well suited for all machining applications from micro to macro.
According to Gisbert Ledvon, business development manager for GF AgieCharmilles, the MIKRON HPM 450U is also a powerful solution for universal, automated production as it perfectly combines dynamics and stability. It easily adapts to suit a variety of customer requirements, offering impressive machining from simple drilling to complex five-sided and simultaneous five-axis machining processes.
The MIKRON HPM 450U features a sturdy and compact design with a large work envelope. Maximum X-Y traverse paths measure 23.62" and 17.2" respectively, with a Z-axis that provides 17.72" clearance between the table surface and spindle nose. Furthermore, the machine has a fast rotary table speed of 140 rpm and an ample tilting range of -120/+45.
The machine's high-performance Step-Tec spindle is available in a 12,000-rpm version with an ISO 40 taper for conventional tooling technologies and programs or in a 20,000- rpm version with an HSK-A63 taper for machining a wide variety of materials. Both versions offer a vector control for full torque in lower speed ranges, a highly stable ceramic hybrid spindle bearing and spindle casing cooling using a controlled internal coolant system that maintains consistent temperatures throughout the entire work process.
Thanks to its various tool magazine sizes, the MIKRON HPM 450U accommodates everything from single-piece production to the mass production of complex workpieces. An internal tool changer, which integrates into the machine's base, has a storage capacity of up to 60 tools. An external circular magazine increases that capacity to 220 tools. Coupling the external magazine with an optional automatic pallet-changing magazine creates a flexible manufacturing cell capable of unmanned, lights-out production.