March 29, 2016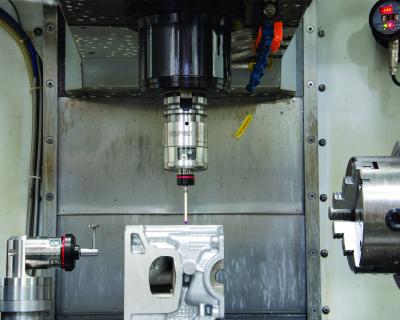 The new Mida VOTS wireless, multichannel optical tool setter from Marposs features an innovative modulated transmission technology to ensure high immunity to interference, a large operating range and a wide transmission angle, making it ideal for use on large 3- and 5-axis milling machines and machining centers. It is part of the company's VOS family of optical probing products.
The VOTS unit is used to carry out breakage, wear and integrity checks and length and diameter measurements on cutting tools. Thanks to the dual vertical/90° version, it is ideal for every type of application, according to the company. It is completely wireless, thus installation is simple. The probe can be mounted on the dedicated magnetic base so that it can be removed easily from the working area to increase the available space. It can be used for twin applications in which part and tool checks are managed by a single optical receiver.
Related Glossary Terms
centers


centers

Cone-shaped pins that support a workpiece by one or two ends during machining. The centers fit into holes drilled in the workpiece ends. Centers that turn with the workpiece are called "live" centers; those that do not are called "dead" centers.

gang cutting ( milling)


gang cutting ( milling)

Machining with several cutters mounted on a single arbor, generally for simultaneous cutting.

milling


milling

Machining operation in which metal or other material is removed by applying power to a rotating cutter. In vertical milling, the cutting tool is mounted vertically on the spindle. In horizontal milling, the cutting tool is mounted horizontally, either directly on the spindle or on an arbor. Horizontal milling is further broken down into conventional milling, where the cutter rotates opposite the direction of feed, or "up" into the workpiece; and climb milling, where the cutter rotates in the direction of feed, or "down" into the workpiece. Milling operations include plane or surface milling, endmilling, facemilling, angle milling, form milling and profiling.