July 01, 2019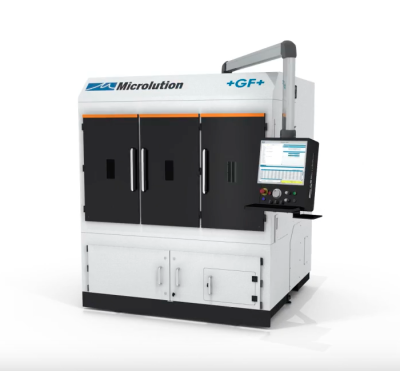 GF Machining Solutions offers the Microlution MLDS, the next generation in femtosecond laser processing systems. The dual-station/dual-part laser machining center provides extremely high laser "on time" via measurement and
loading functions performed as parallel processes alongside machining operations.
Configured as a hybrid platform with high-speed milling spindles, the MLDS further boosts overall productivity while simplifying and expanding a shop's part-processing potential. As a hybrid configuration, the MLDS removes the bulk of material mechanically and finishes parts with femtosecond laser quality. This dual functionality can significantly reduce total part cycle time.

The MLDS features dual tilt/rotary part tables. On each table, the machine can perform either 5-axis conventional milling or 5-axis femtosecond laser machining. Pick-and-place automation moves workpieces in and out of the
machine and allows for continuous as well as lights-out operations.
Designed as an economical micron-scale machining system, the MLDS is optimized for microscale holemaking and fine cutting without the creation of heat-affected zones in workpieces. The combination of quick axial acceleration,
exceptional stability, precise part handling and motion control with integrated part characterization and measurement delivers ultraprecise machining with high accuracy, speed and quality.