July 12, 2022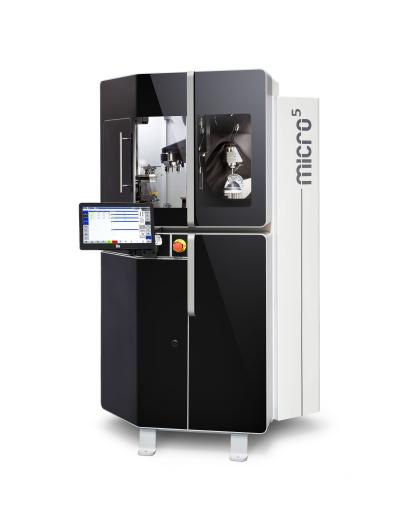 The compact Micro5 machining center, to be demonstrated by Chiron Group at IMTS 2022, booth 134542 in the Germany stand, is ideal for machining the smallest medical instruments and delicate parts for microprecision industry. The innovative machine is said to guarantee maximum precision for small, microtechnical workpieces such as medical, watchmaking, jewelry and small electronics.  
With a 5:1 ratio of machine to workpieces, five-times lower weight, and a much lower energy consumption than conventional systems, the 5-axis Micro5 machining center is extremely compact and quick and easy to set up almost anywhere.  
The Micro5 offers very high static stiffness, repeatability of 0.5 μm and target accuracy of 2 μm. With excellent thermal stability, very high dynamic rigidity, and acceleration of 2g, the compact machine is made for HSM. 
Many times more efficient 
The central element of the Micro5 – which is literally the size of a fridge – is a high-performance milling spindle. This reduces the machining time significantly compared to larger machines. Thanks to its particularly high rigidity, the compact, five-axis machining center also ensures high precision and optimum surface quality. At just 500 Watts, the Micro5 also consumes very little energy. It's operated simply by an intuitive HMI panel. And with a noise level under 50 decibels, it's quieter than a dishwasher.  
Feed5 – Greater autonomy, greater production capacity 
Early users of the Micro5 wanted the machine to allow automatic loading for higher production capacity.  For that capability, Chiron provides the Feed5, a six-axis robot for automated loading and unloading. As compact as the Micro5, the Feed5 is particularly useful for enabling increased autonomy and productivity for longer production runs. The maximum workpiece size for the Micro5 is 50 x 50 x 50 mm (L x W x H). 
"The high-precision machining center perfectly complements the Chiron product range below the 08 series vertical machining center, which handles a work cube of 450-270-360 mm.  
For a view of the 5-axis machine in action https://www.youtube.com/watch?v=mIjPcSQK2v4