March 01, 2014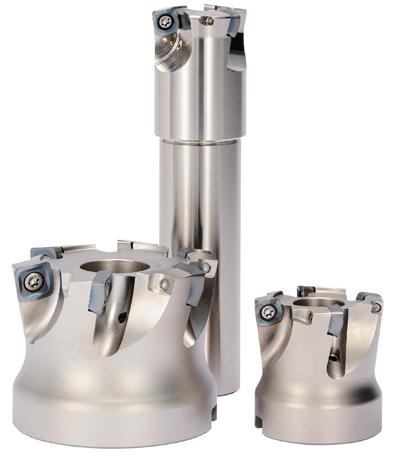 Kyocera Industrial Ceramics Corp., Cutting Tool Div. introduced its new MFH-Raptor High Feed Milling Cutter, which features an anti-vibration design for increased productivity in ramping and helical milling at high speeds.
The MFH-Raptor offers a variety of cutting options with three different inserts designed specifically to enhance general milling; to support large depth-of-cut operations (up to 5mm), and to provide a wiper edge for roughing and finishing, even in low-horsepower machining centers. This state-of-the-art cutting tool offers a convex helical edge design to reduce cutting forces during initial workpiece contact. The MFH-Raptor is ideal for a wide application range including face milling and shouldering, slotting, ramping, helical milling and plunging.
The MFH-Raptor is Kyocera's first high-feed milling tool, and is being introduced in response to heavy market demand. Inserts for the MFH-Raptor come in new grades for difficult-to-cut materials, providing stability to help prevent insert fracturing and ensure high-efficiency machining.
The CA6535 insert is ideal for Ni-base heat-resistant alloys and martensitic stainless steel. It provides high heat- and wear-resistance with improved stability through the use of Kyocera's thin-film CVD coating technology.
The PR1535 insert is ideal for titanium alloys and precipitation-hardened stainless steel. Kyocera's proprietary MEGACOAT NANO coating technology gives these inserts improved stability and longer tool life in milling applications.
The MFH Face Mill and Endmill both offer coolant holes for use in machining high-temperature alloys or improving surface roughness.