June 01, 2015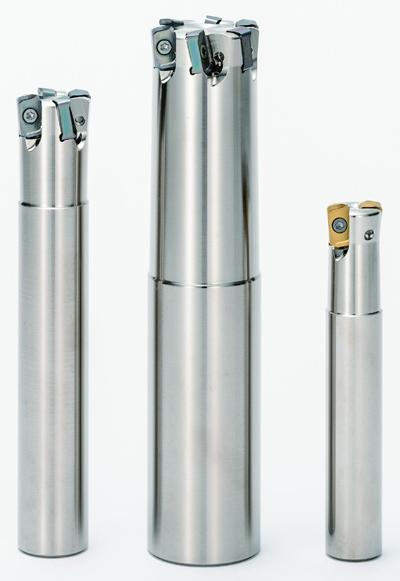 Kyocera Precision Tool Inc. announced the launch of the MFH Mini, a small-diameter, high-feed endmill for processing metal parts. The new product achieves highly efficient processing utilizing the company's proprietary, newly designed insert.
A high-feed endmill is a cutting tool utilized to rough cut the surface of metal across a broad area. The insert requires high cutting capability, which allows for quicker and more stable processing of the workpiece. To meet these needs, Kyocera developed the MFH-Raptor, a high-efficiency, high-feed cutter, in 2014. After its introduction, to support higher-precision cutting technology required for processing molds, Kyocera developed the small-diameter, high-feed MFH Mini endmill.
The MFH Mini is a small-diameter, high-feed endmill for rough processing consisting of a newly developed insert and dedicated holder. The insert features a unique design, which reduces impact on the insert when making initial contact with the workpiece, thus achieving smooth cutting with low resistanc. As a result, the product reduces chattering and enables increased feed rates. In addition, the MFH Mini exhibits high chip evacuation due to the design of the newly developed chipbreaker.
This product is available with both a CVD and PVD coated insert. Utilizing an insert with the ideal coating based on work material characteristics enables the endmill to deliver optimal wear and fracture resistance.
Through an enhanced feed rate, excellent chip evacuation performance and an optimal insert lineup, the new MFH Mini achieves highly efficient, stable processing and contributes to productivity improvements.