November 04, 2021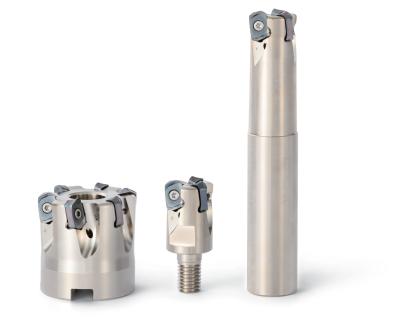 Kyocera Precision Tools introduces a new expansion to their most versatile indexable high-feed milling line. The MFH-MAX provides excellent chip removal performance in various applications, including automotive parts, difficult-to-cut materials, and mold machining. With the ability to take on deeper depths of cut (max. 0.098" / 2.5mm), the MFH-MAX wastes little time getting to work and reduces the number of passes needed to machine the workpiece. The MFH-MAX also supports various milling operations including shouldering, slotting, helical milling, and ramping applications.
After the previous success of the MFH-RAPTOR, MFH-Mini, and MFH-Micro, Kyocera's introduction of the MFH-MAX provides a new alternative to conventional 90° end mills when roughing to medium-finishing. The MFH-MAX also provides more capabilities than conventional high-feed mills by reducing the number of tool paths and machining time when cutting workpieces with large variations in machining margins.
The MFH-MAX utilizes economical, 4-edge, double-sided inserts with a unique convex cutting edge design. These inserts are available in PR15-series PVD insert grades with Kyocera's proprietary MEGACOAT NANO coating technology and a wear resistant CVD grade to cover a wide range of materials from steel, stainless, cast iron, and difficult-to-cut-materials.
Benefits:
Large max depth of cut dramatically improves machining efficiency
High chip removal ratio
Long tool life and stable machining with anti-vibration design
Rigid, chatter-resistant body design
Convex insert cutting edge reduces impact when entering the workpiece
Features:
Cutting Diameters: 1" – 3" / 22mm – 80mm
Double-sided Insert: 4 cutting edges
Max D.O.C. = 0.098" (2.5mm)
GM Chipbreaker: General Purpose
Toolholder Lineup: Face mills, end mills, modular end mills
Applications:
Facing and shouldering
Slot milling
Ramping
Helical milling
Plunge milling