July 01,2010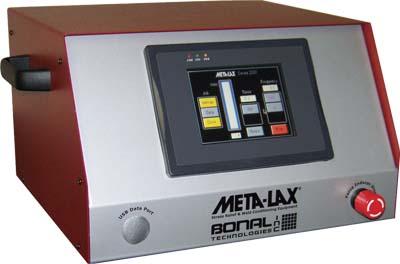 Bonal Technologies Inc. offers its new Meta-Lax 2000 Semi-Automatic Touch-Screen System. The Meta-Lax 2000 will take the place of the manual 700 unit as Bonal's inexpensive introductory Meta-Lax system. The Meta-Lax 2000 is a technological advancement in stress relieving for those companies on a tight budget, said Thomas E. Hebel, interim President of Bonal Technologies. The 2000 unit automates several tasks, like identifying the proper energy level for stress relief, which would have required operator input and decision making on the model 700. The Meta-Lax 2000 features an easy to use 5" color touch screen, with an option to convert to 2400 capability in the future. The system also features a microprocessor, which assists the operator throughout the Meta-Lax process including displaying data for easy transfer to Meta-Lax Certification Sheets. Within 60 seconds the operator is able to scan the part, set the proper stress relief energy level, and begin the stress relief cycle. The stress relief cycle normally takes 30-45 minutes. Additionally, the Meta-Lax 2000 is compatible with Bonal's full line of five Force Inducers, allowing it to successfully stress relieve parts ranging in weight from ounces to over a million pounds. The Meta-Lax 2000 weighs only 22 pounds, which allows it to be taken on location if desired.
Related Glossary Terms
relief


relief

Space provided behind the cutting edges to prevent rubbing. Sometimes called primary relief. Secondary relief provides additional space behind primary relief. Relief on end teeth is axial relief; relief on side teeth is peripheral relief.

stress relieving


stress relieving

Annealing designed to relieve internal stresses caused by machining, welding, casting, cold working, quenching or normalizing.