January 25, 2022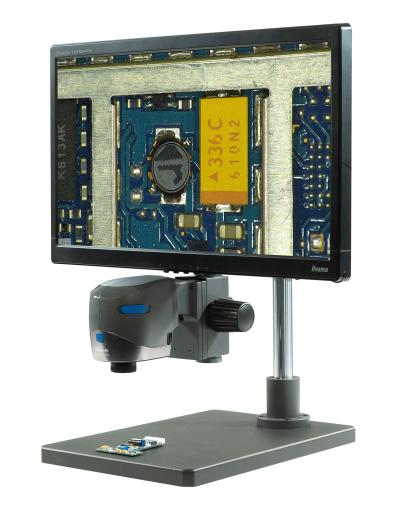 Vision Engineering announces the launch of VE Cam, a new, simple to use compact digital microscope for a wide range of applications at APEX 2022.
The VE Cam digital microscope was launched at Productronica 2021 in Munich and makes its North American debut at APEX Booth 2917 in San Diego in January 2022.
VE Cam is available in two variants with differing fields of view (FOV). VE Cam 50 (50mm FOV) & VE Cam 80 (80mm FOV) offer the power, speed and efficiency of digital imaging in a compact package.
Packed with new and established features that are available on Vision Engineering's EVO Cam ll, the VE Cam enables users to do more within a smaller footprint making it ideal for many routine inspection tasks. The VE Cam is stand alone and does not require a PC, keyboard or mouse.
With Wi-Fi screen sharing, results can be shared wirelessly to smart devices and displays with screen mirroring.
Enhanced productivity features include 10 user programmable presets, 6 hotkeys for instant one touch access to most commonly used presets and a configurable interface which allows most commonly used settings to be shown direct on the screen.
The new VE Cam is a complete standalone inspection microscope for circuit board examination, PCB debug activities or for discovering imperfections, and to trace problems in a wide range of industrial applications. Ideal for applications from goods-in quality inspection to shop floor inspection of turned parts.Suitable for manufacturing electronics, plastics, ceramics, , mechanical engineering and additive manufacturing.
Paul Newbatt, Vision Engineering's Group Sales and Marketing Director states, "The launch of VE Cam extends the Vision Engineering product to include a compact, easy to use and competitively priced microscope which focuses on delivering an efficient and accurate inspection capability, combined with a mix of designed in productivity features, superb image quality and user control.
"Both the VE Cam 50 and VE Cam 80 utilize digital technologies which support immediate information capture and viewing across teams. For example, WiFi image mirroring means colleagues and supervisors can view live images without interrupting workflow, therefore improving efficiency."
Related Glossary Terms
ceramics


ceramics

Cutting tool materials based on aluminum oxide and silicon nitride. Ceramic tools can withstand higher cutting speeds than cemented carbide tools when machining hardened steels, cast irons and high-temperature alloys.

computer-aided manufacturing ( CAM)


computer-aided manufacturing ( CAM)

Use of computers to control machining and manufacturing processes.