August 13, 2013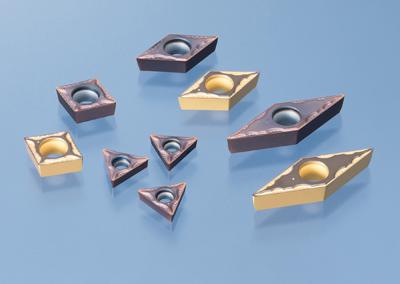 Sumitomo Electric Carbide Inc. adds MESI Chipbreaker for Swiss-style turning and small parts machining.
Featuring a 15 degree nose and a sharp 8 degree main edge, the MESI provides a low cutting force. Studies have shown the MESI to perform with high wear-resistance in applications using titanium, according to the company. A wavy cutting edge maintains better chip control (for bar feeder machines), while the incorporation of dimples reduces cutting temperatures.
The MESI is suitable for medical parts and high-precision parts machining. Available geometries include CCGT, DCGT and VCGT; grades include AC510U/ 520U/530U/AC610M/630M.
Related Glossary Terms
chipbreaker


chipbreaker

Groove or other tool geometry that breaks chips into small fragments as they come off the workpiece. Designed to prevent chips from becoming so long that they are difficult to control, catch in turning parts and cause safety problems.

cutting force


cutting force

Engagement of a tool's cutting edge with a workpiece generates a cutting force. Such a cutting force combines tangential, feed and radial forces, which can be measured by a dynamometer. Of the three cutting force components, tangential force is the greatest. Tangential force generates torque and accounts for more than 95 percent of the machining power. See dynamometer.

turning


turning

Workpiece is held in a chuck, mounted on a face plate or secured between centers and rotated while a cutting tool, normally a single-point tool, is fed into it along its periphery or across its end or face. Takes the form of straight turning (cutting along the periphery of the workpiece); taper turning (creating a taper); step turning (turning different-size diameters on the same work); chamfering (beveling an edge or shoulder); facing (cutting on an end); turning threads (usually external but can be internal); roughing (high-volume metal removal); and finishing (final light cuts). Performed on lathes, turning centers, chucking machines, automatic screw machines and similar machines.