April 03, 2021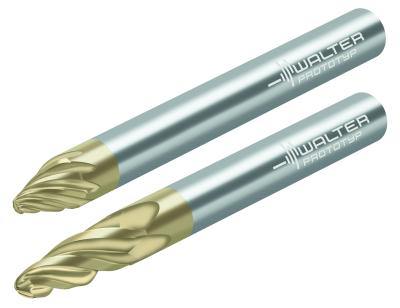 Walter has introduced two solid carbide circle segment milling cutters, the MD838 Supreme (conical) and the MD839 (tangential) Supreme. They offer cost effective finishing because they are up to 90% faster than finishing with ball nose end mills. This is primarily due to the new geometry of the milling cutters, featuring large radii in the cutting area and a higher number of teeth.
Higher productivity is gained not only due to the speed of these cutters, but also the greater number of teeth. Tough and reliable machining is obtained even with long overhangs to attain high component precision. Due to their specially developed geometries, both milling cutters are ideal for final machining of components with steep walls, deep cavities, prismatic surfaces and transition radii. The cutters are ideal in the energy industry, die and moldmaking, medical technology manufacturing, and aerospace, as well as general metalworking.
The Walter MD838 Supreme (conical version) has an effective radius of 250-1000 mm, a corner radius of 0.5 - 4.0 mm and is available in diameters of 6-16 mm. Walter also offers a version of this tool with ConeFit exchangeable head. The MD839 Supreme (tangential version) has an effective radius of 100 mm, a corner radius of 1-4 mm and in diameters of 6-16 mm. The two circle segment milling cutters are available both in the WJ30RD grade, for steel or cast iron materials, as well as in WJ30RA for ISO M and S.
The Supreme lineup of products is one of three categories to Walter tools. Supremeindicates the highest level of technology and performance available. Others in the Walter lineup include Perform tools that are products that provide an economical solution with focused importance on price and Advance which indicates product efficiently balanced between price and performance.
Related Glossary Terms
gang cutting ( milling)


gang cutting ( milling)

Machining with several cutters mounted on a single arbor, generally for simultaneous cutting.

metalworking


metalworking

Any manufacturing process in which metal is processed or machined such that the workpiece is given a new shape. Broadly defined, the term includes processes such as design and layout, heat-treating, material handling and inspection.

milling


milling

Machining operation in which metal or other material is removed by applying power to a rotating cutter. In vertical milling, the cutting tool is mounted vertically on the spindle. In horizontal milling, the cutting tool is mounted horizontally, either directly on the spindle or on an arbor. Horizontal milling is further broken down into conventional milling, where the cutter rotates opposite the direction of feed, or "up" into the workpiece; and climb milling, where the cutter rotates in the direction of feed, or "down" into the workpiece. Milling operations include plane or surface milling, endmilling, facemilling, angle milling, form milling and profiling.