February 04, 2023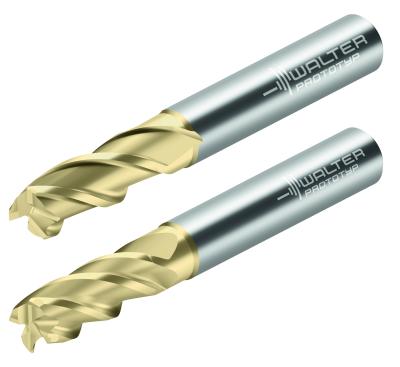 Walter has introduced the MD340 Supreme and MD344 Supreme solid carbide milling cutters for machining steel (ISO P). Despite a growing trend towards lightweight materials, steel machining still represents a significant market share.
The use of the tough milling grade WK40TP with multi-layer TiAlN and ZrN coatings ensures that these milling cutters provide exceptional performance when machining ISO P materials. In addition, these cutters are available with a reduced neck to enable reliable shoulder milling with an extremely high metal removal rate.
The MD340 Supreme has a diameter range from 1/16-3/4 in. or 2-25 mm and is specifically designed for roughing, full slotting and dynamic milling. The wide variety of products with three, four or five teeth makes the cutter extremely productive for universal application.
The MD344 Supreme is a four-flute mill with a special face geometry for optimal 90° plunging and steep ramping angles, setting new standards when it comes to plunging and pocket and cavity milling in a single operation. The diameter range is from 6-20 mm. The multiple operations that are performed by the MD344 Supreme can shorten machining time due to fewer tool changes, reduce the required tool spaces in the machine and reconditioning costs are also reduced because no additional boring tools are required.
The MD344 Supreme and the MD340 Supreme three-flute versions both feature a 38° helix, while the MD340 Supreme four-flute has a 39°/41° variable helix, the MD340 five-flute version features a differential or unequal pitch.
The variable helix, differential pitch versions are each perfectly coordinated, and adapted to the number of teeth, to ensure exceptional performance and operational smoothness, which in turn also improves the quality of the surface finish and maximizes tool life.
The Walter lineup of products consists of three categories to tools. Supreme tools indicate the highest level of technology and performance available. Advance tools indicate product efficiently balanced between price and performance and Perform tools are products that provide an economical solution with focused importance on price ideal for small batch volume jobs.