September 27, 2022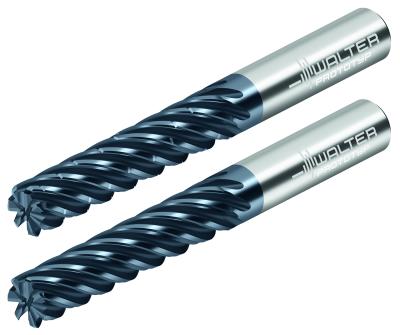 Walter has introduced the MD173 Supreme and the MD177 Supreme, its first solid carbide milling cutters with seven cutting edges. Developed to meet demanding applications in the aerospace industry, these high-performance mills excel in cutting not only titanium (ISO S), but also steels (ISO P), and stainless steels (ISO M) as well. With their seven teeth they achieve excellent productivity, while their variable pitch reduces vibration, ensuring smooth operation as well. Also, the entire length of the cutting edge can be used, providing relatively uniform wear, which extends the tool life of these milling cutters.
The MD173 Supreme is a roughing cutter designed specifically for dynamic milling and for reducing machining time. Its cutting edges equipped with chip breakers enable excellent chip breaking, permitting superior process reliability with high metal removal rates, a plus for users with automated production processes. The MD177 Supreme is a finishing cutter that creates very smooth surfaces without "waterlines." As a result of these characteristics, this milling cutter duo delivers both superior productivity and process reliability, with excellent surfaces. The MD177 Supreme is available in sizes 3/16 – 1 inch and in metric from 6-25mm, the MD173 Supreme in sizes 1/4 – 1 inch. Both versions are available with or without corner radii.
The Walter lineup of products consists of three categories to tools. Supreme indicates the highest level of technology and performance available. Perform tools are products that provide an economical solution with focused importance on price and Advance which indicates product efficiently balanced between price and performance.