November 30, 2021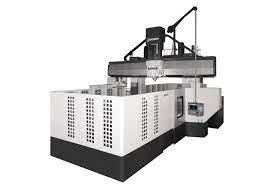 The leadership team of Okuma America Corporation is excited to announce the debut of a new double-column machining center (DCMC). This new machine – the MCR-BV - is the seventh machine offered in the company's double-column machine line-up.
Designed as a machine for 5-face machining applications, the MCR-BV is also capable of 5-axis contouring as well as 5-sided heavy milling applications. These heavy-duty applications are made possible through features such as a powerful integral motor and spindle, an expanded work envelope, and a very rigid table which is 30% thicker than previous models, all of which is ideal for large-part machining. An abundant range of attachment heads are compatible with the machine, allowing for a wide range of unique part shapes to be created, as well as many multitasking machining functions to be performed.
Additional machine features include a fast automatic tool changer (ATC) and a smaller, faster auto attachment changer (AAC), both of which allow this DCMC to greatly increase productivity while performing heavy cutting or high-accuracy finishing.
Key Specs of the MCR-BV Double-Column Machining Center:
Table Size mm (in): 2,000 x 4,000 (78.74 x 157.48) to 3,000 x 12,000 (118.11 x 472.44)
Spindle Speed min⁻¹: 6,000 [10,000 option also available]
Spindle Motor Power kW (hp): 43 (57)
Rapid Traverse m/min (fpm): X: 30 (98.43), Y: 32 (104.99), Z: 15 (49.22)
Magazine Capacity: 50, 80, 100, 120 or 180 Tools