June 13, 2013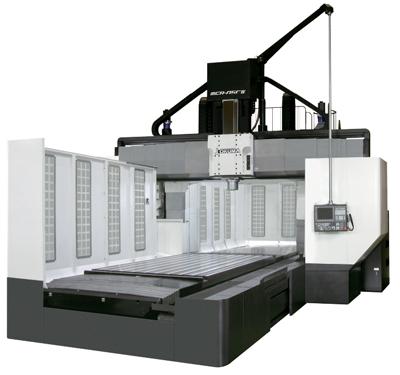 Okuma America Corp. unveils its newest double-column machining center, the MCR-A5CII. With its multiple heads, the MCR-A5CII can now machine all five sides of a part from a single set-up. With this machine it takes only 2-3 set-ups to accomplish the same tasks that require 5-6 set-ups on a vertical machining center. This reduction in set-up time saves end users time and money, and also minimizes chances for costly errors.
The MCR-A5CII double-column machining center delivers true 5-sided machining in a compact footprint. The solid double-column construction ensures greater rigidity and closer tolerances, making this machine well-suited for the efficient machining of general parts and rapid die/mold jobs.
Features of the MCR-A5CII double column machining center include:
Improved productivity with higher machining capacity than its predecessor, the MCR-A5C
High accuracy and dimensional stability
Highly rigid ram-type spindle head
THINC OSP P300 CNC control for easy operation
Compact auto loading/unloading attachments for 5-axis machining
Compact footprint
The MCR-A5CII comes standardly equipped with Okuma's Thermo-Friendly Concept, which stabilizes thermal deformation and therefore shortens warm-up times and reduces the need for dimensional correction during production.
Related Glossary Terms
computer numerical control ( CNC)


computer numerical control ( CNC)

Microprocessor-based controller dedicated to a machine tool that permits the creation or modification of parts. Programmed numerical control activates the machine's servos and spindle drives and controls the various machining operations. See DNC, direct numerical control; NC, numerical control.

machining center


machining center

CNC machine tool capable of drilling, reaming, tapping, milling and boring. Normally comes with an automatic toolchanger. See automatic toolchanger.