June 03, 2021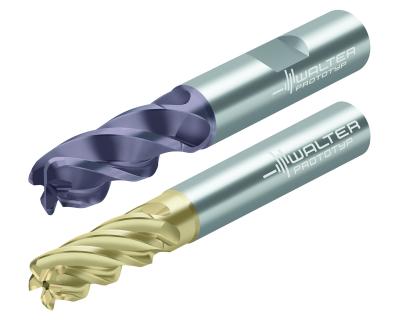 Walter has introduced two solid carbide milling cutters that successfully tackle titanium machining tasks: the MC377 Advance and the MD377 Supreme. The first is a highly cost-effective tool for universal use in ISO materials S, M, and P and the second is a high-end specialist primarily for the aviation and aerospace industry. Both solid carbide milling cutters can handle roughing, finishing and semi-finishing as well as ramping, shoulder milling, plunging.
The MC377 Advance, with protective chamfer, corner radii, and center cutting edge, can be used for chrome-nickel and steel materials, as well as titanium. The versatile cutter's complete range features products with diameters from 2 to 25 mm and makes them particularly attractive for small parts manufacturers in the medical technology sector and food industry. The long tool life of its Walter high-performance WK40EA grade and its tough AICrN coating extend tool life while helping to lower inventory costs.
The MD377 Supreme is a solid carbide milling cutter with a corner radius and central internal coolant engineered for titanium machining. Its HPC Ti40 geometry has been optimized for titanium cutting, with a high metal removal rate thanks to its five cutting edges, and the latest Walter exclusive AlTiN+ZrN coating with HIPIMS technology for maximum tool life. Ideal for dynamic milling, it is suitable for roughing, shoulder milling, finishing, and semi-finishing, with ramping possible, and full slotting up to 1 x Dc. This high-end titanium milling cutter is ideal for machining ISO S materials such as engine components, small parts or structural components, as well as additively manufactured components.
The Walter lineup of products consists of three categories to its tools. Supreme indicates the highest level of technology and performance available. Perform tools are products that provide an economical solution with focused importance on price and Advance which indicates product efficiently balanced between price and performance.