May 24, 2016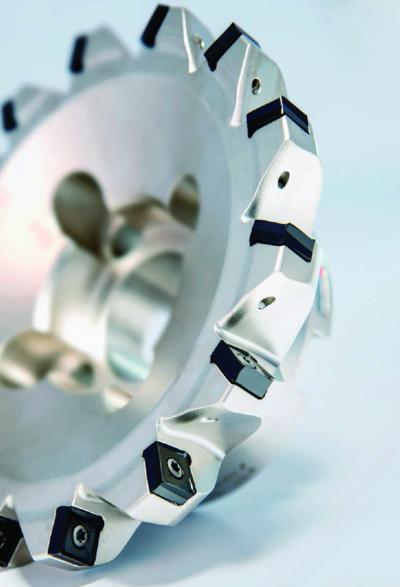 Cutting Solutions by CERATIZIT has introduced the MaxiMill 491 milling system, engineered for easier use, more parts per shift, faster changeovers and profiles of exactly 90°. The MaxiMill 491 system offers eight smooth-cutting edges per insert to provide significant increases in production and savings, the company said.
"Precision and productivity are always make-or-break issues in machining," said Robert Bokram, product manager for end user cutting tools at CERATIZIT USA. "Testing shows the new MaxiMill 491 system not only maintains 90° accuracy, it also boosts production in a wide range of materials."
The system features a new portfolio of carbide grades, BLACKSTAR and SILVERSTAR, and is a major reason why the MaxiMill 491 shoulder milling system is economical. With MaxiMill 491, Cutting Solutions by CERATIZIT is technologically exploring new design features. "Many shoulder milling systems in the market feature an extremely complex design," Bokram said. "We rethought the milling process and simplified the approach."
The MaxiMill 491 system has an attractive price per cutting edge, Bokram said. The inserts are produced to tolerance H and guarantee outstanding axial and radial runout, long tool life and high-quality surfaces. Irregular pitch and perfectly adapted approach angles reportedly ensure reduced vibration, smooth cutting and low power consumption.
The system also roughs and finishes, resulting in fewer changeovers and more parts per shift. The MaxiMill 491 system is suitable for universal application, including facemilling, shoulder milling, peripheral milling, slotting and trochoidal slotting.
The MaxiMill 491 system comes in sizes from 1.50" to 6.00" in diameter and SNHU precision inserts with a corner radius of 0.031". Shell milling cutters are available with a wide or narrow pitch. Shank style tools are available in 1.25" in diameter. The standard -F, -M, -R chip grooves combined with the latest grade technologies are used in steel, cast iron, stainless steel and aluminium in ISO ranges P-K-M-N.
Additional Products from Ceratizit USA Inc.