December 16, 2022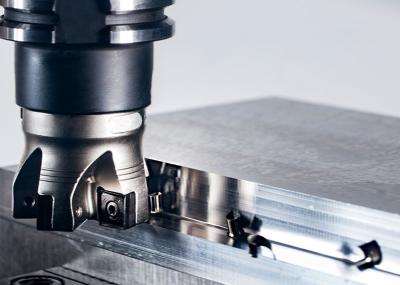 For maximum productivity and machining application versatility, CERATIZIT offers a wide range of tooling systems within its expansive Indexable Milling line of products that includes the company's new MaxiMill 491. With eight usable cutting edges per newly expanded 9-mm insert size, a precise 90°profile and a durable nickel-coated tool body, the MaxiMill 491 system is extremely well suited for all shoulder and full-slot milling applications.
The MaxiMill 491 system provides exceptional ease of use, allowing users to quickly exchange inserts while the tool remains in the machine. This capability significantly reduces machine downtime while the precision-ground inserts deliver stable and smooth cutting thanks to CERATIZIT's state-of-the-art Dragonskin coating technology. Plus, the Dragonskin coating gives the inserts added strength for even the most demanding of machining conditions.
Configured with a positive insert geometry, the MaxiMill 491 ensures excellent surface quality and dramatically increases tool life. The tool's eight usable insert cutting edges also provide a low price per edge for cost effectiveness.
CERATIZIT initially launched the MaxiMill 491 in a 12-mm size with a nominal diameter range from 32 to 160 mm and a corner radius of 0.8 mm. The company extended the range with the addition of 1.2-mm, 1.6-mm and 2.0-mm corner radii. The new 9-mm insert size now brings even greater flexibility for all applications.
With this smaller size, more inserts can be mounted in the tools for even longer tool life and higher chip removal rates. The new size also reduces power consumption, making the MaxiMill 491 effective for use with lower power machine tools.
Related Glossary Terms
gang cutting ( milling)


gang cutting ( milling)

Machining with several cutters mounted on a single arbor, generally for simultaneous cutting.

milling


milling

Machining operation in which metal or other material is removed by applying power to a rotating cutter. In vertical milling, the cutting tool is mounted vertically on the spindle. In horizontal milling, the cutting tool is mounted horizontally, either directly on the spindle or on an arbor. Horizontal milling is further broken down into conventional milling, where the cutter rotates opposite the direction of feed, or "up" into the workpiece; and climb milling, where the cutter rotates in the direction of feed, or "down" into the workpiece. Milling operations include plane or surface milling, endmilling, facemilling, angle milling, form milling and profiling.
Additional Products from Ceratizit USA Inc.