June 27, 2017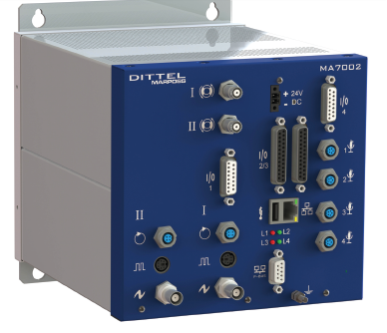 Marposs has announced the availability of its Marposs/Dittel M7002/MA7002 next-generation, dual-plane balancing systems for high precision grinding machines. Relying upon a new deterministic balancing algorithm and specially designed balancing head, these new units deliver an improved balancing process with significant cycle time reduction, according to the company.

The M7002/MA7002 electromechanical units control the balancing heads directly whether in the stationary position or during high speed operation (up to 30,000 RPM) to automatically detect, evaluate, and monitor imbalances on spindle bearings. Fast and precise compensation is performed by a non-contact balancing system, which can be either internal or external to the machine, to optimize machining cycle times and improve product quality.
The M7002 hardware includes the two-plane automatic balancing software while the MA7002 system also includes additional capability for process monitoring, crash-control, first contact detection and/or dressing monitoring for up to four integrated sensors. Machine control is provided through a digital I/O interface with Profibus and visualized via an Ethernet connection.
The new units are particularly suited to wide grinding wheels, gear grinders, double spindle and centerless applications.
Related Glossary Terms
dressing


dressing

Removal of undesirable materials from "loaded" grinding wheels using a single- or multi-point diamond or other tool. The process also exposes unused, sharp abrasive points. See loading; truing.

grinding


grinding

Machining operation in which material is removed from the workpiece by a powered abrasive wheel, stone, belt, paste, sheet, compound, slurry, etc. Takes various forms: surface grinding (creates flat and/or squared surfaces); cylindrical grinding (for external cylindrical and tapered shapes, fillets, undercuts, etc.); centerless grinding; chamfering; thread and form grinding; tool and cutter grinding; offhand grinding; lapping and polishing (grinding with extremely fine grits to create ultrasmooth surfaces); honing; and disc grinding.