August 15, 2018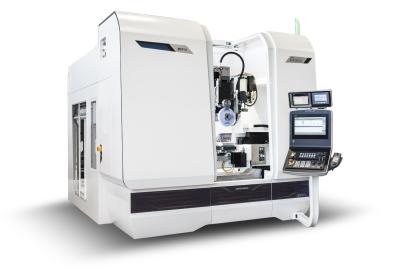 UNITED GRINDING offers the MÄGERLE MFP 51, which combines grinding with conventional machining operations within one production system. This flexible machine comes equipped with either 5 or 6 axes for grinding, milling and drilling operations to process parts in single clampings for improved accuracy and output.
In its standard configuration, the MÄGERLE MFP 51 includes a high-precision 12,000-rpm spindle and an integrated 66-position toolchanger for efficient machining of multiple workpieces without the need for complete tooling changes. The machine's coolant nozzle features 2-axis control for full freedom of movement and precise positioning of coolant delivery to the tool and/or workpiece. Through-the-spindle coolant delivery, along with nozzles on the grinding support, optimize coolant delivery. An optional nozzle changer allows for further adaptation of the coolant supply delivery to individual jobs.
An overhead grinding wheel dresser on the MÄGERLE MFP 51 is integrated into the machine's grinding support to shorten process times. Options include an RFID-based identification system for grinding wheels and tools to eliminate errors when entering tool data in the machine.