February 09, 2022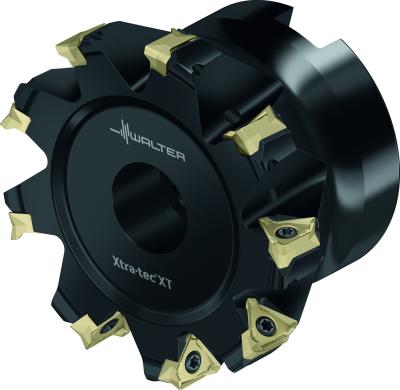 Walter has introduced the M5137 Xtra·tec® XT shoulder milling cutter. It features six cutting edges, approach angles of exactly 90°, positive geometry, and two pitches for different applications. The cutter's exact 90° lead angle eliminates the need for additional finishing operations and its strong, double-sided indexable inserts boost process reliability.
This milling cutter can be used universally for steel, stainless steels, cast iron and difficult-to-machine materials, in face, shoulder, ramping, pocket, and circular interpolation milling operations. Available in diameters of 32-100 mm, a maximum depth of cut of 5 or 8 mm), with Weldon shank or shell mill mount interface.
The fully sintered circumference inserts provide maximum cost efficiency and design features for easy cutting geometry. Further, they boast reduced operating costs thanks to their Tiger·tec® coating and being double-sided. This translates to simple tool selection and low cutting material costs​, and highly cost-effective operation due to low unit costs.