December 22, 2020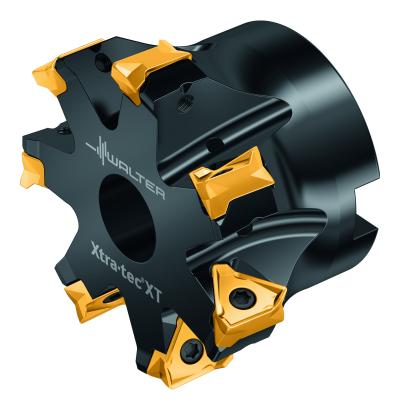 The M5137 Xtra·tec® XT shoulder milling cutter from Walter has six indexes per insert, approach angles of exactly 90°, positive geometry, and two pitches for different applications. The cutter's exact 90° lead angle does away with the need for additional finishing operations. ​It offers high process reliability thanks to stable, strong, triangular double-sided indexable inserts that are provided as fully sintered for maximum cost efficiency. The insert design features easy cutting geometry.
The M5137 Xtra·tec® XT boasts reduced process costs thanks to its Tiger·tec® coating and six cutting edges per indexable insert. This translates to simple tool selection and low cutting material costs​, and highly cost-effective operation due to low unit costs.
The milling cutter can be used universally for steel, stainless steels, cast iron and difficult-to-machine materials, in face, shoulder, ramping, pocket, and circular interpolation milling operations. It is ideal for applications in the energy and mold and die industries, as well as general metalworking. It has a diameter of 2.0-4.0 in. (50-100 mm), a maximum depth of cut of 0.315 in. 8 mm), and a shell mill mount interface.