June 14, 2016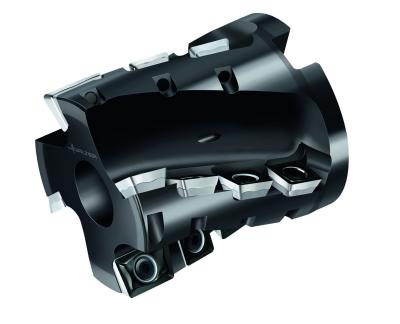 Walter has announced the addition of the M4256, M4257 and M4258 high-performance helical milling cutters to its M4000 family. The M4000 program offers the advantages of a system insert concept that allows one insert style to be used in a variety of tools, permitting a wide array of milling operations. Using a system insert not only reduces the cost per cutting edge, but also the time and costs involved in inventory requirements. With the addition of new M4256, M4257 and M4258 helical milling cutters, Walter is offering the same advantages for slot milling as well. The new milling cutters can also be used for ramping, pocket milling, shoulder milling and circular interpolation.
The new cutters are versatile not only in terms of applications but in terms of materials as well. Standard inserts are available for applications in steel, cast iron, stainless steels and difficult-to-cut materials. Mounting configurations are available with Weldon shank, modular ScrewFit interface and shell mill adaption.
Effective chip evacuation is assured thanks to generous chip clearance which is integral to these helical milling cutters. Working under low cutting pressure, their compact length and effective design promotes smooth operation. This reduces the tendency to oscillate and vibrate, making them the ideal solution for a variety of unstable machining conditions, benefits which pay extra dividends when combined with the system's D51 geometry insert. The D51 boasts an antivibration chamfer that promotes smooth machining operations.