September 18, 2019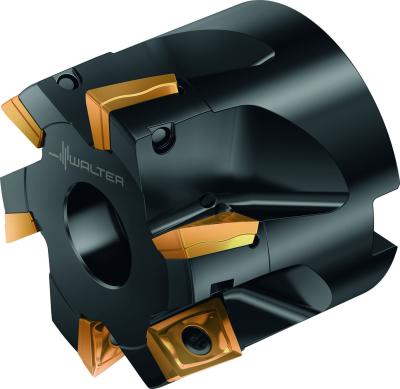 Walter has introduced the M4130, a shoulder milling cutter that reduces costs through its ability to use Walter's universal M4000 system inserts in a variety of different applications. It's soft cutting action makes the M4130 shoulder milling cutter ideal for roughing operations involving steel, cast iron, stainless steels and materials with difficult cutting properties.
This versatile new addition to the M4000 system is also capable of plunge milling, ramping, pocket milling and circular interpolation milling. The M4130 with a 90° approach angle is available as standard in diameter ranges 16 to 100 mm with depths of cut of (8, 13 or 16 mm), depending on the size of the insert. It is also available in a wider diameter range as a "special."
The M4130's inserts, with rhombic basic shape and a 15° clearance angle, can also be used either in the routing cutters or helical milling cutters of the M4000 family. The double-edged inserts with sintered circumference are available in three sizes, each with four CVD-coated and three PVD-coated grades making it relevant for any material application.