September 01, 2014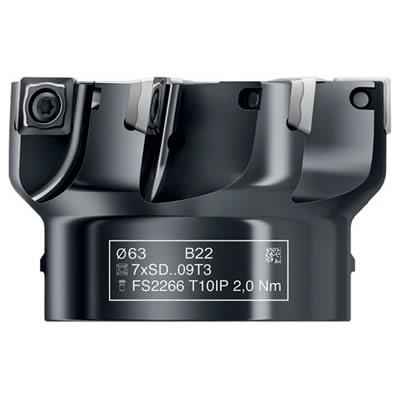 Walter USA LLC has introduced the M4000, a universal milling system that improves production while reducing tooling requirements, thus reducing costs. The system comprises three different cutter bodies, four indexable inserts and can be employed in an array of milling applications, including facemilling, shoulder milling and chamfering. The system is ideal in all steel and cast iron materials, stainless steels and difficult-to-cut materials. Because one insert can handle several different milling applications, the user's tool and storage costs are reduced.
The flank faces on the four cutting edges of these versatile inserts feature a wave profile that displays the geometry of the insert. The more waves that are visible, the more positive the geometry. Like their more specialized relatives in the Walter BLAXX and Walter XtraÌ¢‰ÛÒå»tec product ranges, the M4000 inserts are coated with Tiger-tec Silver. The inserts, which have rake face markings to ensure accurate orientation when changing the cutting edge, come in stable and universal geometries, and have a positive shape with a clearance angle of 15 degrees. This means that less power is required for milling, so energy consumption is reduced and economic efficiency is increased.
In addition, the inserts provide for a more stable cutting environment while decreasing vibration, which adds to tool life. And as an added plus for the user, the M4000 features a new type of laser engraving which allows Walter to inscribe all important information, such as details about the tooling's assembly parts and torque requirements, on even the smallest tool diameters.
The system's versatility can be enhanced even further through the use of special indexable inserts. For the M4002 high-feed milling cutter, a circumference-sintered insert with facet for improved surfaces is available. A special insert with a larger corner radius increases cutting edge stability when working with the high-feed mill and shoulder mill. For the M4132 shoulder mill in particular, an indexable insert with a fully ground circumference is available, which can also come with additional facets.
The M4000 not only marks the debut of an innovative product line, but of an ecologically friendly and sustainable approach to manufacturing as well. It is the first Walter product line to have its CO2 footprint completely recorded and compensated from the delivery of the raw material, right through to when the finished product is shipped to the customer.