January 16, 2019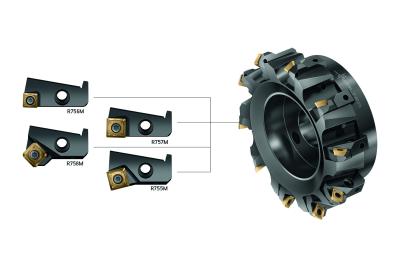 Walter has expanded its milling program with additions that allow the universal, square system inserts of its versatile M4000 milling line to be used in its F2010 program, which is a milling family that utilizes a replaceable and adjustable cartridge.
Cartridges are now available to convert the standard F2010 mill bodies into the following: the M4002, which is a 15° lead high-feed mill; the M4003, a 45° lead mill; and the M4132, a 90° shoulder mill, which is available in two different insert sizes. By launching these four new cartridges for the F2010 face and shoulder milling cutter line, Walter has significantly expanded the application scope of the M4000 range, bringing the M4000's benefits to the machining of medium and large components.
These benefits include soft cutting action plus positive geometry, resulting in high metal-removal rates and optimal efficiency. Previously the M4000 was available only in diameters up to 6 in. (160 mm), but these new cartridge-based milling cutters come in a diameter range of 3.15-12.4 In. (80–315 mm) and can be used to machine medium and large components as well as small ones, efficiently and economically.
The design, which consists of a basic body plus four adjustable or interchangeable cartridge-types makes the F2010 a good choice for those who want to carry out shoulder milling, face milling, or high-feed milling operations. The adjustable nature of the cartridges enables the runout to be fine-tuned to produce superior surface quality. Add to this, the inherent advantages of the M4000 system—and the exceptional versatility of M4000, which is suitable for steel and cast-iron workpieces, stainless steels, materials with difficult cutting properties, aluminium and other non-ferrous metals. These benefits make the system relevant to users working in a wide range of fields, such as general mechanical engineering, the aviation and aerospace sector, and the automotive industry.