September 01, 2015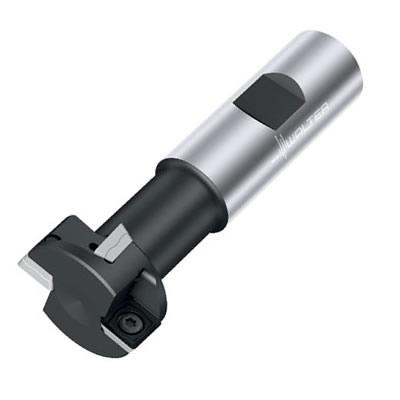 Walter says it has enhanced its M4000 milling cutter system with a new slot drill and a T-slot cutter, enabling users to tackle the vast majority of typical machining operations with a single high-performance yet cost-effective tooling system. The new M4575 T-slot cutter and the new M4792 slot drill join the existing M4002 high-feed cutter, the M4132 shoulder milling cutter and the M4574 chamfer cutter.
A key to M4000 productivity is its innovative insert system which has a single basic shape compatible with every M4000 body, so the inserts can be used in all tools within the M4000 range. This saves on tool and storage costs, and in field tests has reduced cutting tool material costs per component by a half.
In addition to expanding the range of M4000 cutter bodies, Walter is also extending the line's range of indexable inserts. The new WSM45X grade with CVD coating has been added. This grade is suitable for machining stainless steels and difficult-to-cut materials. Together with the Tiger·tec Silver WKP25S and WKP35S grades for steel and cast iron, this addition means that the range now includes a total of three CVD grades. Where a high level of toughness is required, users also have the option of using three PVD grades: WKK25S, WSM35S and WSP45S.
The line's two established geometries have been supplemented with the addition of two new geometries: One for unfavorable machining conditions and high feeds, the other has an anti-vibration geometry for long projection lengths.