October 22, 2020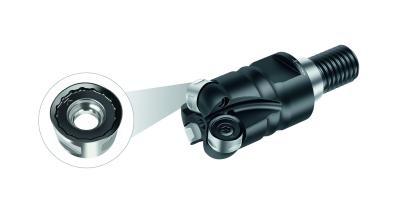 The M2471 milling cutter from Walter, with a new indexable round insert is the first to feature a double-sided round insert with eight useable cutting edges. Its technical features, sintered design, as well as the eight useable cutting edges, help reduce cutting material costs by up to 20%.
This system, with diameters of 0.98 in. (25 mm) with parallel shank or ScrewFit modular interface is suitable for face and copy milling steel, stainless steels and materials with difficult cutting properties. Indexing using the flank face of the indexable insert ensures simple, safe handling. Walter offers this new indexable insert in geometries "G57—The universal one" for medium machining conditions and "K67—The easy-cutting one" for good machining conditions. It is also available in Tiger·tec® Silver PVD grades WSM35S and WSP45S, boosting tool life.
The M2471 milling cutter, ideal for the aerospace and energy industries, boasts a high metal-removal rate even on low-performance machines thanks to its soft cutting geometries and positive cutting characteristics. It brings all the benefits of single-sided round inserts to double-sided round insert cutting. The insert and body are designed so that their overall stability is guaranteed during use of all eight cutting edges.