August 28, 2019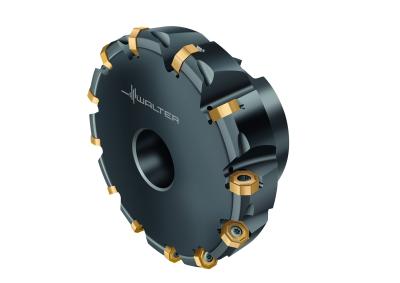 The M2028/M2029 octagon facemilling cutters from Walter delivers high feed rates and lower tooling costs for a wide variety of roughing and finishing applications, thanks in large measure to their stable, negative, double-sided inserts that feature 16 cutting edges.
The versatile M2028 for roughing and M2029 for finishing are suitable for use with ISO material groups P. M, K, and S in a broad range of automotive, aerospace, energy, railway and general machining applications. Field tests for both against leading competitors have yielded dramatic results. The M2029, for example, showed tool life increases in the number of machined parts from 30 to 80 for a turbo housing. It also yielded a machining time reduction of 31%.
A unique feature of the inserts, which are available in Tiger∙tec Gold, is that they have marks on the top for easy recognition of geometry and a DOC. Depending on the cutter, the geometries available are the D57 geometry for stable cutting at high feed rates in unfavorable conditions, the F57 geometry for universal use under medium conditions and the light cutting F67 geometry for low cutting forces and medium feed rates under good conditions. These geometries are available in grades WKP35G, WSP45S and WSM35S.
Related Glossary Terms
facemilling


facemilling

Form of milling that produces a flat surface generally at right angles to the rotating axis of a cutter having teeth or inserts both on its periphery and on its end face.

feed


feed

Rate of change of position of the tool as a whole, relative to the workpiece while cutting.