July 21, 2020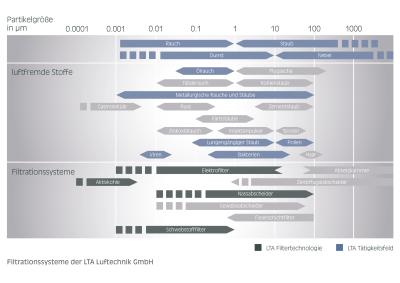 Viruses, bacteria, pollen and other germs can be found on surfaces and in the air. Their concentration can reach particularly high levels in closed rooms. Filtration systems significantly reduce the concentration of these harmful substances. They filter harmful pollutants such as pollen and spores from the air. Viruses measure between 0.05 and 0.12 μm in size.
In the case of viruses and germs, the use of electrostatic filtration systems with HEPA post-filters (High Efficiency Particulate Air) is recommended. These filters have an efficiency factor of over 99.95% and can separate particles larger than 0.01 μm. HEPA post- filters are ideal for high-traffic areas such as manufacturing plants, conference rooms, open-plan offices, cafeterias, and waiting rooms. In addition, electrostatic filtration systems have disinfecting and odor-eliminating properties that kill off viruses and bacteria and substantially improve indoor climates.
In the mechanical and metalworking industries, turning, milling, and grinding can all produce oil and coolant mist. Oil mist consists of particles from coolants, which become suspended in the air as aerosols.
These microparticles or aerosols of approximately 1 μm in size are hazardous to health and reduce the efficiency of machine tools, while also contaminating machines, measuring devices, floors, and production halls. Electrostatic or mechanical filtration systems with an efficiency factor of over 99.9% improve production conditions by reliably protecting employees in their places of work. Reusuable, low-maintenance filter elements increase the sustainability and cost effectiveness for the entire production chain.
As is the case with oil mist, dust and smoke produced during metalworking and production are also hazardous to health and increase wear. Mechanical filtration systems for dust improve health, working conditions, and production safety.