March 01, 2011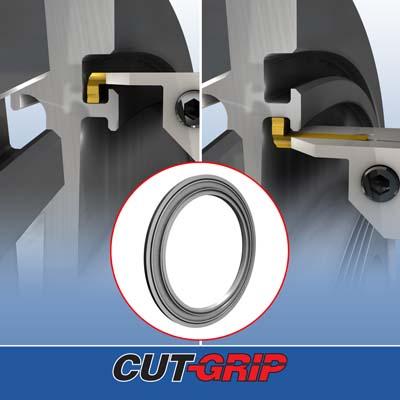 To meet the growing demand from the energy/powergen sector, ISCAR has launched a line of extra-strength standard grooving tools for more efficient and secure machining of T and L slots so common in turbomachinery. Previously such tools were available only as specials and in much more lightweight designs, the company reports. Key applications include T grooves on turbine disks, rotors and casings made of superalloys.
Huskier than any comparable standard or special available today, the LPGIR insert provides a very rigid platform with a choice of chipformers suited for either OD or ID work in long- or short-chipping materials. The cutting tip is very thick and longer for stronger gripping. This heavy-duty design brings a level of rigidity that improves finishes and enhances process security in high added-value components. By minimizing the risk of catastrophic tool fracture and reliably prolonging "time in the cut," new ISCAR LPGIR inserts even permit unattended operation.
For reliable chip evacuation in grooving and to meet widespread market preferences, advanced ground chipformers generate desirable long segments and, to minimize re-cutting, direct them out of the tightest groove. The PR type chipformer handles both right- and left-hand cuts; the asymmetric T type chipformer cuts only to the left. Also available as a standard is the P-type chipformer for limited, less challenging operations including short-chipping metals. Additional chipformers are available on request.
ISCAR LPGIR/L inserts are available in a width range of 2-5mm (.079"-.197") and can handle grooving depths up to 6.5mm (.256"). Matching HLPGR/L tools cover the size range to ensure system rigidity in all cases.
Additional Products from Iscar USA