May 03, 2023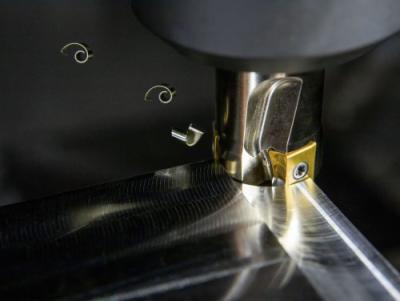 A new assortment of Pramet LNEX 12 negative tangential inserts, with four cutting edges, provides a highly productive solution for a wide range of applications. The LNEX 12 is a robust insert designed for shoulder milling with a maximum depth of cut up to 10 mm. It features a positive rake angle and narrow T-land to provide a smooth cutting action with lower demands on spindle torque.
The peripherally ground insert offers improved wall accuracy and straightness and creates a true 90° corner. The LNEX12 also featuring a patented U-groove segment on all four cutting edges which provide a good surface finish and expand its application range to low-power machines and small depths of cut. In addition, the two-sided design supports performance by making ramping possible.
The insert comes in two different geometries, F- for machining of various workpiece materials in light and medium applications. While M- is suited for medium to semi-roughing in steels and cast irons.
Alongside the new insert is a line of perfectly matched cutters. The Pramet SLN12X series is available in Cylindrical, Weldon and Shell styles, with all featuring internal coolant systems for improved surface quality.
Its improved body strength and thick core offers enhanced rigidity, giving a reliable cutting process with low vibrations and long tool life for both the insert and cutter. Easily accessible large clamping screws provide simple indexing and handling of inserts.
The combination of the Pramet LNEX 12 inserts and the SLN12X cutters give operators a smooth cut with a clean finish, reducing the need for additional operations, such as deburring.