June 12,2018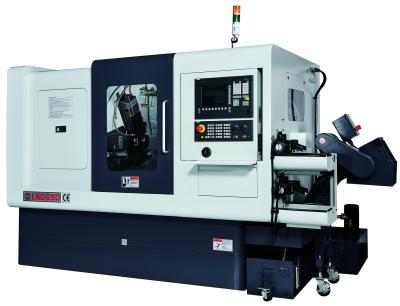 The LND-65D-S3 is an 11-axis mill-turn center that can often produce parts faster than conventional twin-spindle, multi-turret machines with up to five tools in the cut simultaneously. This machine has a bar capacity of 65mm (2.56"), maximum turning length of 475mm (18.7"), and employs independent 2-axis cross slides that can overlap each other and the turret.
The turret works on either the main or the counter spindle, and can perform on-center work on both spindles simultaneously. An 8-position turret with optional live tooling and Y-axis is standard. The LNDD platform comes standard with an independent counter spindle, dual high-pressure oil pumps, chip and part conveyors and tool holders for all positions. The LNDD series is available in the following bar sizes: 42mm, 51mm, 65mm, 80mm, 100mm.
The LNDD is built with a highly engineered frame and slides for damping vibration and reducing the variables that can arise in size and finish from such vibration. The result is a very stable process at cycle times that are often two to three times faster than twin-spindle, single-turret machines.
Related Glossary Terms
turning


turning

Workpiece is held in a chuck, mounted on a face plate or secured between centers and rotated while a cutting tool, normally a single-point tool, is fed into it along its periphery or across its end or face. Takes the form of straight turning (cutting along the periphery of the workpiece); taper turning (creating a taper); step turning (turning different-size diameters on the same work); chamfering (beveling an edge or shoulder); facing (cutting on an end); turning threads (usually external but can be internal); roughing (high-volume metal removal); and finishing (final light cuts). Performed on lathes, turning centers, chucking machines, automatic screw machines and similar machines.