June 12, 2017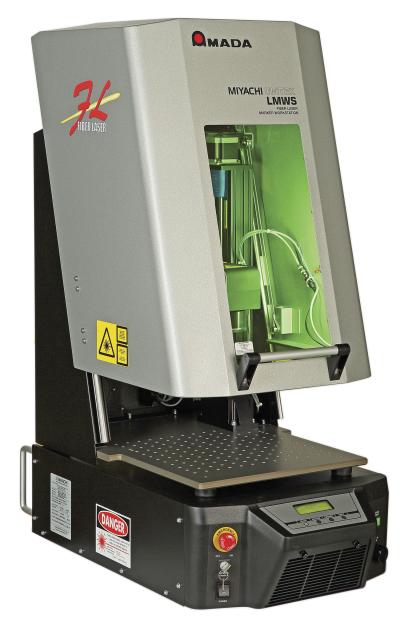 Amada Miyachi America Inc. announces the availability of the updated LMWS pulsed fiber laser welding system, a highly configurable, compact unit designed for lean manufacturing. The system features a versatile high-power, high-speed laser, available in 20- to 70-watt (W) powers for welding metals and plastics. The LMWS is suitable for welding dissimilar metals, including copper to aluminum, aluminum to stainless and steel and copper to stainless steel. By simply changing the settings, this laser can even be used to mark welded parts.
This series has numerous performance options to match the right laser to the application. When paired with the LMF20-SM pulsed fiber laser welder, the system offers a 20W welding system for small features. Paired with the LMF70-HP 70W pulsed fiber laser, the LMWS offers an advanced processing system for welding thin metals up to 0.010 inches (250 micron).
LMWS is available with a variety of integration options to match process needs. It comes standard with an XY galvanometric scanner. XYZ and rotary stages or through-the-lens and off-axis camera options are also available. The LMWS unit comes with integrated stage controllers for up to four axes of motion, for use in such applications as step and repeat welding, focal plane height adjust and rotary welding.
Weld types include single point object arrays, basic shapes (rectangle, circle, and spiral), wobble function and vector graphics, including CAD, line-drawings, and logos. The LMWS complies with IEC13849 – 1 category 4 PLe safety circuitry requirements with proper integration.
Related Glossary Terms
computer-aided design ( CAD)


computer-aided design ( CAD)

Product-design functions performed with the help of computers and special software.

lean manufacturing


lean manufacturing

Companywide culture of continuous improvement, waste reduction and minimal inventory as practiced by individuals in every aspect of the business.