September 13,2012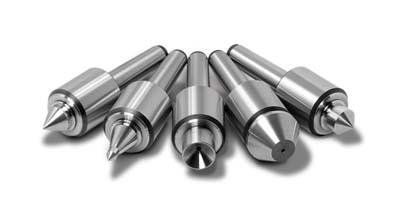 Royal Products, a leading live center manufacturer known for custom designs, has standardized five live center point styles. The new line will fit 90 percent of formally custom-only applications. The new standard live centers were developed for manufacturers that regularly use custom designed centers.
Manufacturers can now avoid long lead-times for replacements, prevent unnecessary downtime and save money by eliminating the need for a custom order. Available standard centers include full diameter, reduced diameter, female 90 degree angle, small bull nose and male 90 degree angle.
Royal Products offers the exclusive Roto-Shield technology that can increase a live center's life by up to 300 percent, according to the company.
Standard on Royal's most popular live center models, Roto-Shield increases bearing life by deflecting coolant, protecting bearings, minimizing seal wear and maintaining grease consistency. Manufactured to exacting tolerances, all Royal live centers are guaranteed accurate to +/- 0.00005" TIR or better.
Related Glossary Terms
centers


centers

Cone-shaped pins that support a workpiece by one or two ends during machining. The centers fit into holes drilled in the workpiece ends. Centers that turn with the workpiece are called "live" centers; those that do not are called "dead" centers.

coolant


coolant

Fluid that reduces temperature buildup at the tool/workpiece interface during machining. Normally takes the form of a liquid such as soluble or chemical mixtures (semisynthetic, synthetic) but can be pressurized air or other gas. Because of water's ability to absorb great quantities of heat, it is widely used as a coolant and vehicle for various cutting compounds, with the water-to-compound ratio varying with the machining task. See cutting fluid; semisynthetic cutting fluid; soluble-oil cutting fluid; synthetic cutting fluid.

total indicator runout ( TIR)


total indicator runout ( TIR)

Combined variations of all dimensions of a workpiece, measured with an indicator, determined by rotating the part 360°.
Additional Products from Royal Products