July 13, 2022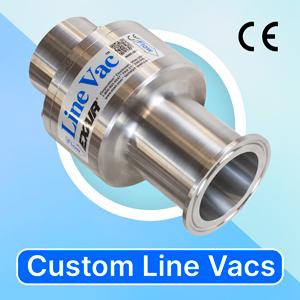 EXAIR's Line Vac Air Operated Conveyors provide an efficient method of converting ordinary pipe, hose or tubes into powerful in-line conveyors. To accommodate the wide variety of unique problems manufacturers face,
EXAIR has the ability to customize and tailor Line Vacs to different specifications. Certain processes may require customizations like unique sizes, shapes and materials in order for the product to be a perfect fit for their system. EXAIR will work in collaboration with the customer to fabricate the best possible Line Vac solution for easy and efficient conveyance. For customers with space limitations, smaller sizes can be created while still offering the same quality of conveyance.
In situations where the Line Vac requires a specific flange mounting option, EXAIR can accommodate. Locations requiring custom mounting holes, brackets or inlet positions are possible. For applications where stock aluminum, or 303 and 316 stainless steel won't work, alternate materials like PVDF, OVC or PTFE can be utilized. Even in extreme environments, EXAIR can produce both heavy duty or high temperature iterations to handle even the toughest material or conditions. Other details like the customer's particular hose size, or pipe threading are specifications that EXAIR will have no problem accommodating.
Stock Line Vac models include standard, heavy duty, high temperature, light duty and sanitary flange. All versions are able to be customized to a customer's specific needs. For help solving any specific conveyance problems, please contact an Application Engineer. All Line Vacs are CE compliant.
Related Glossary Terms
threading


threading

Process of both external (e.g., thread milling) and internal (e.g., tapping, thread milling) cutting, turning and rolling of threads into particular material. Standardized specifications are available to determine the desired results of the threading process. Numerous thread-series designations are written for specific applications. Threading often is performed on a lathe. Specifications such as thread height are critical in determining the strength of the threads. The material used is taken into consideration in determining the expected results of any particular application for that threaded piece. In external threading, a calculated depth is required as well as a particular angle to the cut. To perform internal threading, the exact diameter to bore the hole is critical before threading. The threads are distinguished from one another by the amount of tolerance and/or allowance that is specified. See turning.