February 03, 2016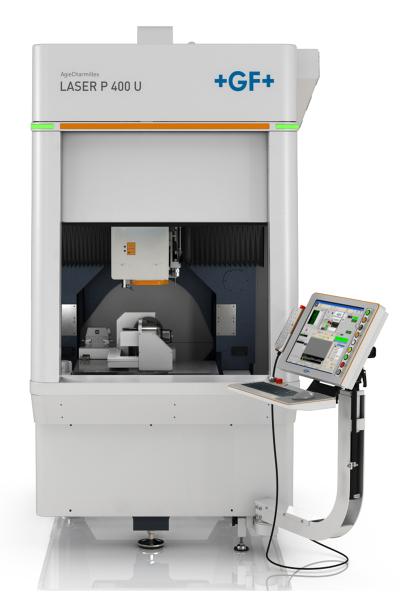 GF Machining Solutions, Lincolnshire, Ill., today announced the expansion of its line of laser texturing solutions with the LASER P 400 3-axis machine and LASER P 400U 5-axis machines. The machines provide easy, repeatable laser engraving texturing and structuring for small parts, such as for watches, jewelry, cutting tools, small inserts and micromachined workpieces, according to the company.
As with all of GF Machining Solutions' LASER machines, the LASER 400 family is said to offer infinitely repeatable high performance, incredible accuracy and impeccable quality. The machines feature a fully digitized texturing process, which reportedly makes it easy to texture, mark, engrave and add functional texture to parts, molds and dies—even when dealing with complex 3D parts.
The modular concept of the LASER 400 family includes a patented, dual laser head that includes both a fiber nanosecond laser and femtosecond pulsed laser. This is said to allow texturing and engraving of a surface with a single setup, as well as extend the range of materials that can be used.
With a footprint of just 48.4" x 87.8", the LASER 400 machines are described as easy to incorporate into an existing production environment, and can accommodate workpieces up to 23.6" x 15.7" x 9.8" in size, while the LASER P 400U can accommodate workpieces with a maximum diameter and height of 4.7".
The LASER 400 family is automation ready and allows for unattended night and weekend operation. The machines easily partner with a System 3R pallet changer to further boost efficiency and flexibility.